Hey Trader,
Imagine being able to wake up, spend at most 2 hrs on your computer or phone, and then getting to do whatever you want for the rest of the day without worrying about your investments blowing up or worse... spending too much time making trades and only making a few bucks.
Time is more valuable than money, so why should you trade your time for money?
Doesn't it make sense to invest your money wisely so you can have more time to do the things that you truly love?
That's why I made this Lesson Library, to help both aspiring and seasoned traders to speed up the time it takes to turn a profit in the stock market.
✅ My Biggest Issue Trading when I first started was truly understanding quality patterns & how to consistently grow my account. I was so greedy on trying to maximize profits which often lead me to ending in the red. Now due to my Conservative Style of trading, i've been able to consistently stay green and my profits are bigger then ever before!
✅ In this Lesson Library, I've developed a complete A-Z course of easy to understand video lessons that showcases my experience, best practices, mistakes to avoid, and the overall mindset that has led to my and my students success. This is how I wished I was taught when I first started, would have saved me time & money.
✅ You will learn my conservative technical trading strategies, how to identify potential, pattern identification, how to scan for a quality stocks on your own, and working towards daily/ weekly/ monthly goals that will accommodate both part/ full-time traders.
✅ I'm huge on ACCOUNTABILITY, meaning i work with our members on a daily basis to hold them accountable for there trades and assist them on their weekly stock planning.
Our Realistic approach has assisted thousands of traders to focus on quality & consistent growth.
You Will Get Immediate Access To...
+Daily LIVE Trading @ Market Open With Roystan and the private group.
+Private group chat to network with hundreds of quality traders every single day.
+Over Never Before Seen 30+easy to understand, straight to the point trading tutorials (Check them out Below)
---
*UPDATES: I will be continuously adding videos and tools to this lesson library as time goes on!
REFUND POLICY: We do not offer a refund option. Our saying is simple: "If you are not ready to invest in yourself you are not ready to invest" Absolutely NO Exceptions (We reserve all rights to revoke group chat privileges)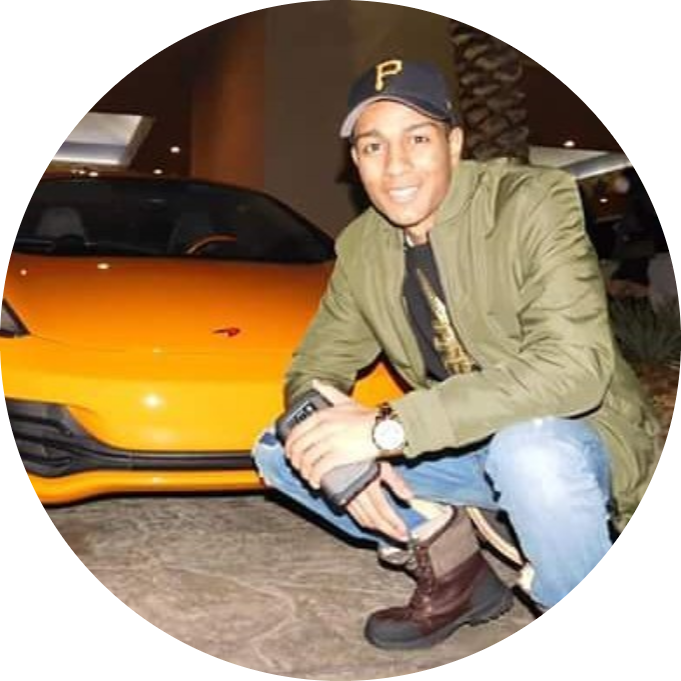 Roystan Shiw , A 26 year old Successful Day Trader & Entrepreneur Mentors 700+ members With His Conservative Style Of Investing & Overall Mindset. Roy is known for the experience him & his team offer with TradeCom, communicating with each student individually & trading live everyday with his students is just one of the many things Roy does to go above and beyond to offer every person the most superior experience.
Member Review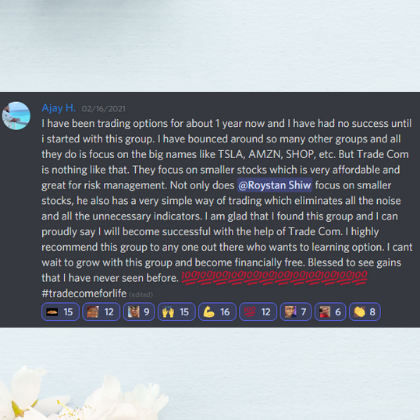 Member Review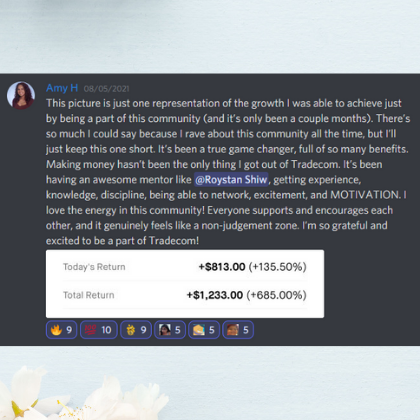 Member Review